Mississippi John Hurt
Learn to play in the style of MJH, original early country blues roots music.
He has influenced an innumerable amount of musicians throughout the last four decades. His songs continue to be played throughout the world.
He invented the alternating bass style of fingerpicking.
"I just make my guitar sound like the way I thought it should."
Blind Willie Johnson
Learn the scintillating slide licks of Johnson. He started using a pocket knife for a slide to mimic his voice.
He had the power to make a religious song sound like the blues and a blues song sound holy.
He sang in a "rasping false bass," and played bottleneck guitar with "uncanny left-handed strength, accuracy and agility."
Blind Willie played mostly in open D tuning using the alternating bass method while playing the melody predominantly on the first string with the slide.
"Dark Was The Night Cold Was the Ground is the most transcendent piece in all American music."
Ry Cooder
Lightning Hopkins
Once he was playing, he would almost slip into a trance and a blues stream of consciousness would come pouring out, making him nearly oblivious to what was going on around him.
Hopkins had a bag of licks and patterns that fit largely into two divisions -- slow E and Fast E (with an occasional venture into A). He along with other Texas blues guitsrists including Mance Lipscomb specialised in the monotonic bass style.
Son House
Born near Lyon, Mississippi, March 21, 1902, Son House chopped cotton as a teenager while developing a passion for the Baptist church.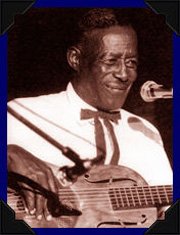 His song "Preachin' The Blues Part I & II" was a six-minute biography of his life and served as inspiration for Robert Johnson's "Preaching Blues" and "Walking Blues".
" House's powerful vocals and slashing slide guitar style established him as a giant of the Delta School."
Robert Johnson

Robert Johnson is renowned as the legendary King of the Mississippi Delta Blues.
Johnson was not gifted with a musicial talent for guitar. According to A.W.Miller, the legendary Eddie "Son" House taught Johnson to play. House taught Robert the basics of blues. House really encouraged Johnson to take his music seriously and to go for his goal and become a professional musician.

Around June of 1930, blues musician Son House came to Mississippi. His music deeply affected Robert Johnson, for it was the "rawest, most direct pure emotion Robert had ever heard, and he followed House and [Willie] Brown wherever they went"
Nick Drake
Drake is known for his gentle, autumnal songs and his virtuoso right hand finger picking technique. Although he recorded only three albums, critics and fellow musicians held his work in very high esteem. Other outstanding British Folk guitarists include, Bert Jansch, John Renbourn and Davy Graham.
Doc Watson
Doc Watson has had a profound influence in the areas of traditional folk, country blues & bluegrass. His finger picking, flat picking, banjo playing and vocal skills are second to none. He was arguably the greatest ever acoustic guitarist.
Pete Seeger
Learn the banjo style of Pete Seeger who mastered and internalised great American folk traditions.

Pete Seeger was born to a musicologist and a music teacher. Music and activism blended naturally for Seeger
"I fell in love with the old-fashioned five-string banjo, rippling out a rhythm to one fascinating song after another."
Vishwa Mohan Bhatt
Learn the scintillating Indian slide as played by the legendary Vishwa Mohan Bhatt.
Underpinning this slide technique is the approach of Indian music which captures the subtle moods and emotions of the human condition through the expression of ornamented slide.
Robert disappeared for a period of time and when he returned, Son House and Willie Brown were astounded by his development.

Robert's sense of timing and pitch was second to none. He moved freely from swing time to straight time and visa versa even within the one phrase.

His ability to improvise and to connect to his spirit as troubled as it was, was exceptional.
Listen to the two recordings of Crossroads and observe how the second take recorded immediately after the first is completely different.